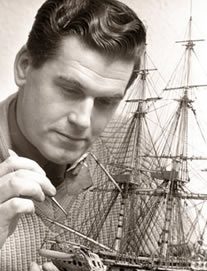 Mountfleet Models was formed as a retirement project by Frank Hinchliffe, but as with everything Frank did in the modelling world, the quality of the kits he produced ensured that the company blossomed into one of the premier model boat kit producers in the world.
Frank had a lifelong interest in all sorts of models and a tremendous talent ensured he would become one of the worlds finest model makers.
During the 1960s he restored bone prisoner of war models from the napoleonic times, quickly becoming the premier expert on the subject. The 1970s saw him establish Hinchliffe Models which went on to become a world leader in the model soldier and wargaming fields. The lure of model boats soon got the better of him and in the early '80s he established Calder Craft, whose reputation we are sure many of you will know about, the kits took the model boat world by storm!
Sadly Frank passed away in 2006, but his legacy lives on in the fantastic kits he produced. His wife Susan then ran the business until October 2012, when the business was sold and purchased by Adam. Adam since is now producing the Darnell submarine hulls, a range of military hulls and recently purchased Adrian's Marine Figures.
Mountfleet Models is very much a 'cottage industry' with the emphasis on quality and personal service. All our models are hand produced and we only sell direct to the customer and not though model shops. With our 'direct only' policy we are able to provide you, the modeller with a top quality kit at reasonable prices, no middleman profits or fancy packaging!
We try as much as possible to attend the major shows so you can judge our quality for yourselves. Alternatively we are also pleased to show club groups round our premises, where you can see our range and purchase at a discount. If your club is interested please contact us.
Our models are sold throughout the world, and are designed for the true modeller who enjoys a fascinating project, these are not 'shake the box and add glue kits' but true modellers projects which result in models of exceptional museum quality standards. Built with care to a high standard our models can command a price far more than the cost of the kit, so if you can bear to part with them they can even be considered an investment!
We are here to help, so if you have any questions please do not hesitate to contact us.